Shop Stella & Dot's entire look here!
Style in a Snap: Shop Stella & Dot's entire look here!
**I was compensated for this post, which contains affiliate links, and I will be compensated if you make a purchase after clicking on my links.
Are you looking for some new fall fashion statements?
You don't have to look any further than this. Stella & Dot now sells clothing!
I had no idea this was coming, and I could not be more excited to see what is on their site. Our favorite jewelry and fashion accessory company is now helping us step up our fashion game with clothing!
Style in a Snap: Shop Stella & Dot's entire look here!
What can you expect to see at the new clothing seller?
Well, of course fashions that go perfectly with their jewelry line. I searched the New Arrivals tab to find so many amazing new tops. They are of course, mixed in with their beautiful jewelry so I had to yell SHINY a few times and click that along with the new tops. And the purses. And the coin bags.. and… well you get the general idea. 
I am having a blast filling my cart with new things, and matching them all up together.
I fancy the Lela Tunic top so far. With sizes from xs to 2x, there is a top for just about every body.
 Here is what they say about it:
"Introducing MAETTE by Stella & Dot. An effortless peasant top with feminine embroidery details. A feminine v-neckline with a flowy fit will pair seamlessly into your wardrobe
Fabrication: polyester
Fits true to size
Loose fit/ Tunic length
Fully lined front and back
Side zipper
Recommended care instructions: Hand wash cold. Do not bleach. Tumble dry low. "
I really love that they are also very detailed about the sizing. They have several models wearing the same shirt on the web page, and they tell you their sizing. The chart further elaborates on what to expect in terms of fit. Waist size, bust etc. so you can pick your closest matching measurements.
I have to tell you- stores that do this win my shopping money every time. I hate doing returns, and I hate being shocked that my size doesn't fit.
(SO many times I have purchased clothing that was no where near the size they described. lol. It is maddening!)
After shopping around on the web site a bit, I have decided that I love the colors that they have presented.
White, black, navy blue and plum.
All so simple and elegant. Clean lines for fall. Easy choices to make when you set out your clothes for the week. Black pants, white pants, gray pants- all are going to be easy to match my wardrobe. Sometimes I just don't want to have to think about matching…lol.
I hesitate to call it a boho chic look, because it is a bit upscale from that. The shirts have a nice simple line, not a lot of print to distract from all that amazing jewelry they also sell. Although, there is a  printed shirt in the mix. It is still fairly simple in its design. 
Here is another of my favorites:
The Willow Cut out Knit top
Here is what they say about it:
"Introducing MAETTE by Stella & Dot. Elevated essential tee with trendy cut- outs to show-off your shoulders. This everyday top can be dressed up or down to create multiple looks
Fabrication: 95% Viscose 5% Spandex Blend
Fits true to size
Relaxed fit
Recommended care instructions: Hand wash, cold water. Lay Flat to dry. Cool iron if needed."
This bare shoulder look is so fashion forward this year. I can imagine this shirt with a statement piece necklace. It can be dressed up or down in so many ways! Hand wash is no fuss, I hate buying clothes that need to be dry cleaned for sure.
 So have you clicked over to check it out yet?
I also want to point out, that if you decide you love their products, you should check out their Stylist program. You can help others be their most fashionable with the Stella & Dot lines. 
They have generous commissions and the ability to get a TON of deals when you sign up for their program.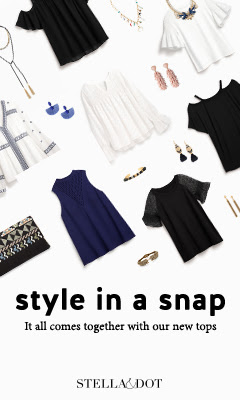 Have you purchased from Stella & Dot  in the past?What are you waiting for? It is back to school, and fall and well- whatever your reason to buy new clothes.. check it out!
Come back and tell us what you bought and what you think about it. I can hardly wait to hear from you.